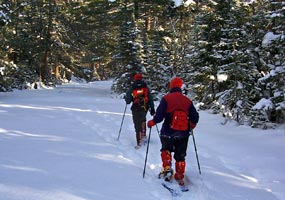 Snowshoeing
Students manage to get their equipment. Various snowshoes of all sizes are provided for students to use. This helps assure a pleasant and snowshoeing experience.
---


Practice
Students practice behind the camp facility on flat ground before experiencing a cross country trail!
---


Creative Arts and Writing
When the weather does not permit snowshoeing, students walk to the Huron River and do a creative writing and drawing activity. Here you see a group of children on thewalking bridge crossing over into the Proud Lake Recreation area.